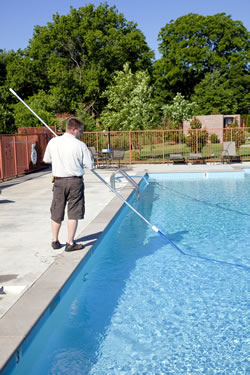 Pool Service and Maintenance
When you are looking to hire a professional and competent swimming pool service company, call us.  We have over 20 years of experience servicing and cleaning swimming pools and spas.  Our company is dedicated to the level of pool service and pool cleaning that will have your pool sparkling year round.  We ensure that your swimming pool is always operating at its most efficient and cost effective levels.
When you require high quality pool service professionals that are both prompt and thorough, Edgewater Pool & Spa is the right choice.  You can always count on reliable maintenance, week in and week out.  With 20 years of experience behind us, we will provide you with knowledge and expertise that is unrivaled in the pool industry.
Swimming Pool Repair



We are a full service repair company.  If you are in need of a repair on your existing pool equipment we have the knowledge to correct any problem.  When it is new equipment installation that you require, we will offer you options that provide the highest quality energy efficient equipment available at competitive prices.
Common Repairs:

Pool Pump –
Loud motor, Will not turn on, Will not circulate the water.

Pool Filter –
Leaks, Broken Grids inside, Back Wash Valve inoperative.


Pool Heater –
Will not start, Leaks, Smells like gas.

Pool Light –
Will not turn on, Light Fixture has water in it.

Salt System –
Not working, Requires system maintenance.

Pool Plumbing –
Leaks, inoperative Valves, Skimmer, Suction Line issues.