Pool & Spa Lighting
Edgewater Pool & Spa offers new equipment installation of ALL major manufactures brands including, Pentair, Jandy, Hayward, Raypak and more.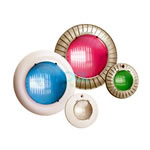 Proper swimming pool lighting is not only important for safety.  It can also enhance the look of your swimming pool.  We offer the most energy efficient lighting available today.  Underwater LED lighting has extended the service life of pool and spa lighting in comparison to the older incandescent bulb models.  Color-Changing Underwater LED lighting offers individual colored lights or a mixed and matched vibrant spectrum of colors.  We consider your specific needs and then recommend a product that is ideal for your particular system.
When it is time to replace your existing swimming pool lighting we have the expertise that comes from 20 years of experience in pool and spa repair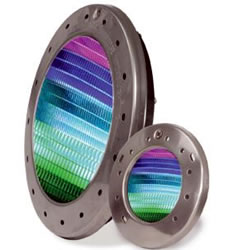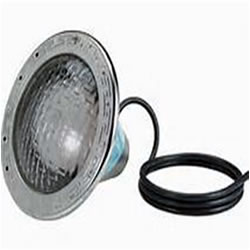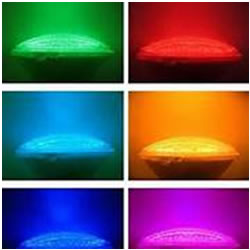 SWIMMING POOL LIGHTING SYSTEM GUIDE
Lighting is essential if the pool is to be used at night. External lighting of your pool, spa, or water feature is possible with a variety of high- and low-voltage systems. For installation and maintenance of external systems, it is recommended you consult your local electrician. For lighting the water from within, however, there are also a variety of options. This is where the water technician needs to be an expert.
Like the lights in your house, pool and spa light fixtures have a standard, screw-in socket for a bulb (in fact, your household 100-watt bulb will work in a 120-volt pool or spa fixture). The cord that supplies electricity to the fixture is waterproof and enters the unit through a waterproof seal. There are no user serviceable parts in the cord, seal, or fixture except for changing the bulb. Although the correct term is lamp, will use the more common expression bulb. Fixtures and bulbs are available in 120 or 240 volts, but 120 volts is most common for residential use. Bulbs generally run from 300 to 500 watts.
Fixtures are sold with cords of 10 to 100 feet, so you need to know the distance from the light niche to the junction box to determine what you need when purchasing a replacement fixture. A simple rule of thumb is to buy the next longer length than you think you need, because you can always use the cord for something else and the few extra bucks is cheaper than getting one a little too short and making another trip to the supply house.
Smaller versions of these fixtures are available for spas. They come in 120 or 240 volts, but usually employ smaller-based specialty bulbs that might screw in or have bayonet-type sockets. A quartz or halogen bulb will give you the most light from a small low-wattage bulb. These new technology bulbs are very expensive but save energy and need replacement less often than hotter, higher wattage standard bulbs.
Get a Free No-Obligation Quote
Call or Text Today! 818-281-2355