Wireless Pool System  Repair
Problems with your wireless pool system control can be frustrating. Troubleshooting and resolving the issue can be complicated
When it is time for a repair on your wireless pool system we have the expertise that comes from 20 years of experience troubleshooting and resolving any issues your system may have.
Common Problems:
System Not Responding
Sensor Failure
System Resets Frequently
Error Messages
No Power To Control Panel
Intermittent Errors
System Settings Reset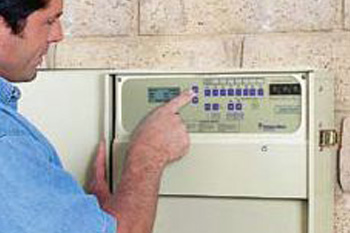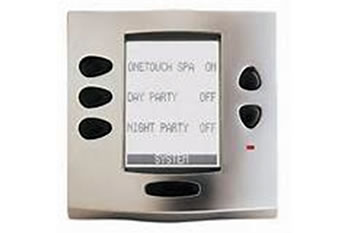 WIRELESS CONTROL TROUBLESHOOTING GUIDE
Error messages? Contact a pool service person if you see a Sensor Shorted message. This error indicates that you have a malfunctioning sensor or the sensor was not correctly installed. If you see Air Sensor Shorted, your pool's freeze protection will not operate properly. If you see Water Sensor Shorted, this means your pool heater will not fire.
No power? Check the circuit breaker that is supplying the power to the wireless unit. If there is power to the unit than it may be a problem with the transformer that reduces the power to a low enough voltage to run the wireless system. Call a qualified service technician.
Remote won't work? If the remote is mounted on a wall and the display on the remote is not working you want to check the power on the control center. If the control center has power then you should contact a qualified service technician as the remote probably needs to be replaced. If the remote is wireless first check the battery or if it has a charging station make sure the handheld wireless unit is holding power. If the charging station is working but the handheld unit will not hold a charge than it needs to be replaced.
RF Interference? If you are experiencing interference on the wireless signal you need to see if you have added some other signal that may be causing the problem. New appliances, Baby Monitor, New Wifi setup, stereo equipment, wireless thermometer? If you are experiencing RF interference you should call a certified technician as this can be a difficult problem to solve in some cases.
Why have a wireless remote system? Imagine coming home to a warm, clean spa with jets bubbling and lights on, ready for you to enjoy after a long day at work. Or a pool whose pumps and filtration system ran during off-peak hours, saving you added hassle as well as a bundle on your energy bill. Automatic controls manage the features for your pool and spa; including: lights, pumps, filtration systems, chemical feeders, jets, heaters, and any other electrical component you may have incorporated in your landscaping.
Today's technology makes these controls especially helpful and accessible. Some controls interface with your cell phone or iPhone, giving you ultimate remote access, while others have LCD touch screens and control pads that mount inside your home to make managing your pool and spa even more convenient. If you have any questions about which system might be right for you, please don't hesitate to contact us.
Get a Free No-Obligation Quote
Call or Text Today! 818-281-2355